Select your plan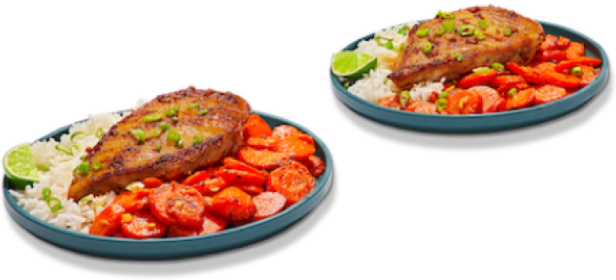 Got questions? We've got answers.
How can I see the recipes before I sign up?
Just click Weekly Menu to see the upcoming meals. Meals change weekly, so there's always a new flavorful dish to look forward to.
Why does EveryPlate cost less than other meal kits?
We use less packaging and simple ingredients for delicious, filling meals that are easily doable. Our aim is to bring tasty value and convenience, not make you a chef.
Is there a commitment?
Nope! Skip when you want and cancel any time. You can skip weeks in advance in case you're going out of town. It's easy.
What comes in each delivery?
Each box comes handpacked with delicious ingredients and recipe cards. Your ingredients are also insulated so they stay cool even if you're not at home.
What if I don't cook for 2 or 4 people?
If you cook for one, the Dinner for 2 Plan is an easy lunch solution. You'll get dinner and lunch. The Dinner for 4 Plan has adult-sized portions, so it may be enough for a family of 5.
Why do I have to pay for shipping?
Shipping helps us keep meals at a lower cost. Our total price is still much lower than other meal kit companies.